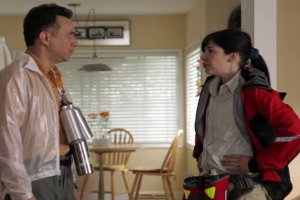 We moved this summer to a place where we can cycle year round. This was previously the stuff of fantasy due to -30C winters, so when we arrived here we were sorely lacking winter cycling accoutrements: high-visibility rain gear, headlamp and tail light, splash guards.
Cue another round of gear-buying…
Having had my come-to-Jesus (pronounced Hay-zeus) moment with consumerism, I now become irritated at the mere prospect of buying gear, and feel an acute nausea with each new item I purchase.
It wasn't always that way. Gearing up used to be exciting. It was a sport unto itself, and we were just like the couple pictured above in the hilarious Portlandia episode. For any new activity, we'd go to the outdoor store and spend our hard-earned money on so-called must-have items, which we'd use for a while before moving on to the next great activity. The end result: lightly used climbing harnesses, six bicycles, four backpacks, three tents, light hiking boots, heavy hiking boots, winter hiking boots, downhill skis, cross-country skis, a snowboard. It's a minor miracle we didn't own three or four kayaks, some expensive fly-fishing equipment, and a small twin-engine airplane equipped with floats…you know, just in case.
Perhaps, like me, you see a little too much of yourself in the characters of the skit. We need to guard against that.
Let's replace "Get the gear!" with "Do the math!"
★ Discover why you don't need the gear. Pre-order the New Escapologist book today.