Holy Smokes, is that the time? Ja! It's the (eighth?) annual report to my imaginary shareholders.
Though the world's terrifying problems continue, 2017 somehow felt like a nicer year than 2016 didn't it? Maybe it was the encouraging resistance to evil we witnessed around the globe or perhaps it was the incompetence revealed in the devils themselves. Whatever the reason, I certainly feel happier today than I did at the end of 2016. I hope you feel similarly, dear reader.
This being said, much of my year was spent negotiating the aching bullshit of The Hostile Environment. This meant my partner and me working in day jobs again — she full-time, I part-time — and largely putting our frugal, creative lives on hold. But never mind! Things, to some extent, still happened:
In January I wrote a piece about Death and Minimalism for Caitlin Doughty's blog. It's only a little thing but CD (as the cool kids call her) and her blog are so phenomenally popular that I still get email about it a year later.
This loudcast also nudged some nice people into my Patreosphere, a funding system that led me to write and post some six new essays (and re-edit six old ones) this year. There will be another dollop of this in 2018, so please join in and encourage a bit more Escapological writing if you can.
In February, my silly face appeared (below) in an Alan Dimmick forty-year retrospective in Edinburgh. It felt good to be welcomed into the Hall of Fame (or Rogues Gallery) that is Alan's collection of Glasgow hepcats. And look at the essence-capturing greatness of his work — witchcraft, I tell ye.
In May we visited Northern Ireland for the wedding of Escapologists Reggie and Aislinn. It took place in a lighthouse and we were lucky enough to spend a night in this remote (and suspiciously phallic) place.
In the summer, we flew to Montreal for another wedding. It was a beautiful outdoor event and it felt good to be back in Sin City (as nobody ever calls it). There, we lounged in the sunshine, saw Houdini's handcuffs, and helped install an art show for Andy Curlowe. I say "helped," but my contribution was largely to eat vegan hotdogs while watching the team hang the paintings. That's useful, right?
Clubhouse fun with @rubberwringham during setup of Andy Curlowe's show at @GaleriedEste – vernissage ce soir! pic.twitter.com/lE2K3gKUvX

— The Other Samara (@TheOtherSamara) June 7, 2017
On returning to the UK, we popped down to "That London" to record my online course in Escapology with the Idler gang. It was a great treat to drink beer with Tom on the side of the Thames and to pootle about in his Idler world.
In the Idler magazine itself, my column continued through 2017 with another 8 installments, making this my longest-running column.
In August, I crossed the river to see some TV producers in Govan about a possible Channel 4 documentary. I quickly got the sense that the doc wasn't going to happen, but it was fun to travel to the meeting by boat. I might move to an island — that is, an island smaller than Montreal or, indeed, Britain — just to make this happen.
Back to Belfast in September, this time for cultural tourism. Perhaps the highlight for me was the Royal Ulster Academy Annual Exhibition where we saw this ace crab:
In October, I caught some kid's helium balloon in my open umbrella. I also teamed up with friends for a Wicker Man ensemble at Halloween.
In November, I got a nice essay into Canadian Notes and Queries, a favourite literary journal. This was a proper bit of writing and I have no idea where I found the time and creative juice to do it. And yet, slightly flirting with Terry Fallis on Twitter was a highlight of my year.
"I didn't win. It went to Terry Fallis, as is traditional." Haha! Issue 100 of @CNandQ containing my piece about the @LeacockMedal came in the post this morning. It is a thing of maximum loveliness. Thank you folks. x @TerryFallis @aaronbushkowsky @CanusHumorous pic.twitter.com/qOUZukHAF2

— Robert Wringham (@rubberwringham) November 14, 2017
In December, Landis and I released a second episode of The Boring Podcast, part of an objects-based collaboration that will, I think, continue next year.
At home, we celebrated Hanukkah in the traditional way — by slightly messing up the mathematically-complicated candle-lighting ceremony. On December 25th we fled the tinselworm and insulated ourselves to Christmas Radiation by walking for an hour to the nearest Odeon to see The Last Jedi.
Throughout the year, our guest room hosted friends from far and wide. There was Emily from New York, Sofia and Drew from British Columbia, Shanti from Montreal, my family from England, Landis from Chicago. When you don't have the freedom to travel very much, why not bring others to you instead? We also cultivated some new friendships in Glasgow, perhaps especially in Louise, Graeme, and Sven (hi!).
Despite spending a year in the horror of employment, I end 2017 feeling positive and confident. I should be able to pack the day job away in February or March. I suspect I will let you know when that happens, such will be my need to rejoice.
I already know 2018 will be a big year and I'm looking forward to telling you about it as it happens. The escape plan is drafted. The lock picks are primed. Wheels are very much in motion. Bring it on.
*
As is traditional, here is my year in books. It's a slightly shorter list than usual thanks in part to the aforementioned day job but also in part to a subscription to the eternally-great-but-famously-destructive-to-reading-capacity LRB. Lest we forget, an asterisk* denotes an out-loud read while the dagger† denotes a re-read. Parp!
Patricia Highsmith – The Boy Who Followed Ripley
Robert Sullivan – Rats: A Year with New York's Most Unwanted Inhabitants
Rutger Bregman – Utopia for Realists
David Nobbs – The Death of Reginald Perrin
Ryan North/Erica Henderson – The Unbeatable Squirrel Girl Vol. 3
Philip Roth – The Ghost Writer
Kakuzo Okakura – The Book of Tea
Simon Barnes – How to be a (bad) birdwatcher
Ann Laird – Hyndland: Edwardian Glasgow Tenement Suburb
Arthur Conan Doyle – The Adventures of Sherlock Holmes*†
Nicholson Baker – How the World Works
Ben Aranovich – The Hanging Tree*
Ernest Hemingway – The Old Man and the Sea
Tom Baker – Who on Earth is Tom Baker?
Nigel Williams – 2 ½ Men in a Boat
Grant Morrison & Darrick Robertson – Happy
J. G. Ballard – Concrete Island
Walter Tevis – The Man Who Fell to Earth
Quentin Bell – Bloomsbury
Quentin Crisp – The Naked Civil Servant
Georges Perec – Species of Spaces and Other Pieces
Patricia Highsmith – Ripley Under Water
Stephen King – Doctor Sleep
Ronnie Scott – Death by Design: The True Story of the Glasgow Necropolis
Janice Galloway – Jellyfish
Roald Dahl – Someone Like You
Penelope Lively – The Purple Swamp Hen and Other Stories
William Golding – The Pyramid
Elaine Dundy – The Dud Avocado*
Amy Licence – Living in Squares, Loving in Triangles
Katherine Mansfield – Bliss and Other Stories
Miranda Sawyer – Out of Time
Dave Simpson – The Fallen
Simon Garfield – The Wrestling
Ben Aaronovitch – The Furthest Station
Piers Anthony – Heaven Cent*
T. E. Lawrence – The Mint
Books read in substantial part but ultimately abandoned (this year, on the unusual grounds of being, simply, shit):
Greg McKeown – Essentialism
Karen Russell – Vampires in the Lemon Grove
Paul Merton – Silent Comedy
Chris Packham – Fingers in the Sparkle Jar
Geoff Dyer – White Sands
As the year closes, I find myself reading Mary Beard's so-so doorstep SPQR and Richard Sennett's soft and bulbous Together.
Being suspicious of sound waves, I never give you a year in music. To make up for this culture dearth, here's my friend Ian, whose taste is beyond reproach.
Sorry for not blogging in a little while, lovely readers. I've been very lazy and — aside from writing the latest New Escapologist essay — have taken almost a month off. I highly recommended it.
We spent a couple of weeks holidaying in Montreal. It was good to be back in my second home and my wife's first home. What can a young body do in such beautiful surroundings other than lounge on terasses and balconies and on the lush, green mountain? Very little is what.
We were there ostensibly for my brother- and sister-in-law's wedding, which they had outdoors in the sunshine followed by a great party indoors with lots of good-quality booze. In fact, it was too much good-quality booze in my case, and I had to mysteriously absent myself from the family brunch the next day.
Later in our stay, we popped into the McCord Museum for an exhibition of original magic show posters. I expertly and repeatedly told my companions that this was the very site on which Houdini — the Master Escapologist, about whom I should know everything by now — took the punch to the guttywuts that would kill him a day later. Not only was I certain of it, I was also sure this fact would be the lynchpin of the whole exhibition. In the event, it was mentioned only at the very end of the show that Houdini was in fact walloped at the no-longer-extant Princess Theatre on St. Catherine Street. How could I have been so wrong? I hope my pub quiz team don't hear of this or I'll be ritually (and rightly) paddled for this failing in my special subject.
I was, at least, happy to see a pair of handcuffs used by the Master (labelled "Houdini's handcuffs" as if he had a favourite pair – in fact he usually took regulation cuffs from local police officers) patented exactly a century before my birth. Cool.
It was very good to be back in this dreamy little island city and I wondered why on earth we ever came back to grey old Scotland. But then I remembered the harsh Montreal winters and how I missed all my friends and how it's useful to make money every now and then. Bugger.
No sooner were we home in Glasgow did we have to hop on a train to London so I could record one of those online courses for the Idler Academy. It was a nice day of recording in the lovely surroundings of a beagle-filled house on the Thames. As you can see, I worked really hard that day. I'll let you all know when the course is available (because I'm contractually obliged to).
Also in London, we peeked in at the famous Cereal Killer hipster caff on Brick Lane (where, as we sat in the window, a man selling ice cream from a bicycle-and-cart tutted disdainfully at the absurd cereal restaurant before gaily shouting "ice cream!" from his bicycle seemingly oblivious to the irony) and visited the brilliant Queer British Art show at the Tate (where one of the lovelier paintings, it must be said, is on loan from Glasgow's Kelvingrove Gallery and we can happily see it whenever we like) and took a pointless but long-anticipated legend-tripping pilgrimage to the actual site of the Enfield poltergeist haunting. Oh! And I was stupidly excited to see the Pesticles statue at Hammersmith.
Home now and fairly knackered. Another month off might beckon.
★ If you'd like to re-live the glory days of New Escapologist, please pledge to my Patreon campaign to immediately access 4 new essays (and 4 dusted-off classics) as well as getting a brand new essay at the end of this month. Thanks!
We've moved again. Such is the life of an Escapologist. Escape is mobility.
You may remember that we returned to Scotland from Canada and, very fortunately, were able to rent a flat quite cheaply from a friend who, making her own great escape, had left her home for pastures new. "Do you want a tenant?" I asked. For over a year we enjoyed a fine Escapological economy, our rent funding a friend's escape and her property providing us with a hassle- and paperwork-free landing pad.
Well this was always going to be temporary. We wanted a better-situated HQ and our landlady would make more money renting her flat to real people instead of her slacker pals. So two months ago we moved to Hyndland, a part of Glasgow which, Wikipedia boasts, is home to "young bourgeois bohemians including a number of noted authors, poets, actors and footballers."
I don't know if I'd describe a footballer as a bourgeois bohemian (I suspect this is the result of two edits, footballers being tacked on by someone, perhaps a Hyndland estate agent, who doesn't know what is meant by bourgeois bohemia) but you get the idea.
It's quite posh in a tumble-down, half-reclaimed-by-nature sort of way and our neighbours all seem to be couples who, despite low incomes, won't tolerate discomfort and ugliness. Suits us.
Almost as soon as we moved in, friend Landis came over from Chicago to live in our spare room for a couple of months. It's been like having a pet artist. He sits at his drafting table all day long, feverishly cross-hatching and coming out, bleary-eyed, for a snack every full moon or so.
It's been great having Landis over and our home has felt like a little artists' colony, with he and Samara drawing and me writing at my laptop and something spicy simmering away on the kitchen stove. Not bad. Every now and then we get together and ad-lib a little project like this podcast about notebooks. We look like this: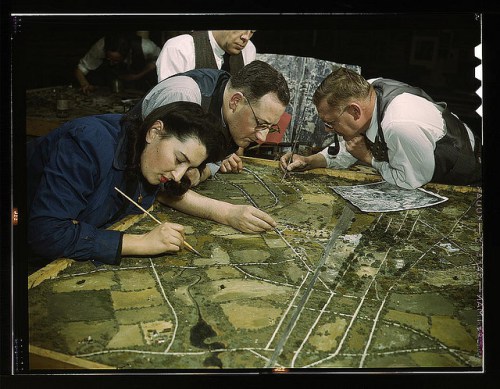 When we moved in, all we owned was eight boxes of books and clothes, and three small pieces of furniture: even less than in our last move. The flat was unfurnished, so we had to place orders at Ikea and spend some time mooning around in thrift shops. This is all fairly contrary to my nature, so I've tried to see it as a creative venture — making something — rather than simply an acquisitive one.
We've been guided by minimalism — Is this thing necessary? How few bookshelves can we get away with? Shall we jettison these? — in an act of what in fact is a considerable expansion to our total mass.
This is a good lesson. Even in acquisition (especially in acquisition) be guided by minimalism. Also, "minimal" is relative to your needs. Just don't kid yourself about your "needs".
Having Landis over has been helpful in these early weeks, as he's been able to help build our flatpacks. In fact, the whole move as been a barn-raising exercise with friends coming over to help with bits and bobs. This is nice not just in that it makes the process easier — many hands, light work — but also in that it imbues a corner of the flat with a memory. The bathroom door is now the door Alan sanded down for us. The futon is the futon Neil helped us to build. The sofa was put together by Peter and Sam. etc.
In other news, the Patreon campaign is going fairly well but perhaps not as well as I'd hoped. I think we'll be okay but I do need more people on board. Dig deep, if you can, and subscribe to the new essay series for as little as £1.
A funny postcard arrives in the mail this morning from Sam's parents in Canada, depicting scenes of toque-hatted Montrealers trudging through the grey slush and snowmobiles ploughing through the streets. I am so glad to be in Glasgow right now! But bless you, Canada.
★ The post-print phase of New Escapologist is just beginning. Go here to join in.
★ You can also buy all thirteen issues in print or PDF (in newly discounted £20 bargain bundles) at the shop.
A weekend break in Berlin to celebrate my birthday and to give Canadian Samara some long-promised time on a larger land mass than the tiny island we now live on.
My third time in Berlin, this was a leisurely trip spent largely sitting around and masticating. She sure doesn't bring this up often (like every day or anything) but Samara comes from a land of great grub and has moved to a land of decidedly sub-par food just to be with me. Gastronomic tourism is my little way of making amends.
We took an AirBNB in Kreuzberg, my favourite neighbourhood of Berlin, and took refuge from the cold at various bobo-friendly restaurants and bars.
My favourite place to eat wasn't a resto at all but a marketplace. It was an indoor market hall where you can buy sandwiches for €3 and great coffee for €2 and eat and drink at various little public tables, watching the world go by. Intergenerational groups of locals did the same, enjoying small glasses of wine in the leisurely fashion not quite embraced by the Calvinists of Scotland and England. This being a market hall, I was also able to enjoy the presence of gigantic German sausages. I didn't know where to look.
On Saturday we visited the museum at Bauhaus archive. We love Bauhaus (who doesn't?) and it fits in nicely with our current line of thinking about artistic production (social, art-meets-utility, minimalist).
Leaving the building, we spotted this stone tablet (above) declaring an "Extemporale Zone" (or "out-of-time zone") in which "the representation of eternity in every instant is the uniting sound before utopia".
On Sunday I had to meet a journalist from Die Welt to be profiled for the newspaper with regards to my book, Ich Bin Raus. I think the journalist was largely on board, though we had limited time together so I probably just yelped something about escapology and hoped for the best.
As with other journalists I've met lately she asked about automation and the coming crisis in the nature of work, which is clearly a big topic at the moment and one I could talk about for a long time. Ultimately, I think we have to choose as a society between something approaching socialism (UBI) and the ultimate expression of neoliberalism (widespread precariat struggle) and I think I was able to communicate this in the time we had.
Monday morning and we touch down in Glasgow, ever-so-slightly larger. Burp.
★ The post-print phase of New Escapologist is just beginning. Go here to join in.
★ You can also buy all thirteen issues in print or PDF (in newly discounted £20 bargain bundles) at the shop.
Hooray! It's time to file my annual (2011, 2012, 2013, 2014) report to my imaginary shareholders.
The point of this diary is to show what the life of an Escapologist is like. Or at least, what the life of one Escapologist is like. These annual roundups are year-in-the-life type things written in the same spirit. Here goes.
The year began in Montreal (at Phelan's house party in the snow) but in March we made the big move back to Scotland. For both of us–me and Samara–the move was 2015's defining event.
Before hitting the Glasgow dirt though, we spent two weeks in Spain. We were art tourists in Madrid and then beach bums in Alicante. This is a hot tip for mobile Escapologists, actually: travel while homeless. In the Prado, I saw this portrait of Tristan Tzara:
Our search for a Glasgow apartment was mercifully short. A friend, inspired in part by New Escapologist, was leaving Scotland for Germany. (She's now very settled and has just had a baby girl). I remembered that she owned her flat and might be looking for tenants. So now we have a place to park our chaise as well as an Escapological micro-economy running between us and our errant landlady. Thanks Heather!
We'd barely been in Britain five minutes when we were summoned back to Canada. My book, A Loose Egg, had been shortlisted for the Leacock Medal. I doubted I'd win (and I didn't) but was aware that 2015 might be the only year I'd be eligible let alone shortlisted, so I didn't want to miss my chance to experience the ceremony and meet the in-crowd. So back to Canada we went, first to Toronto and then to Stephen Leacock's old stomping grounds of Orillia.
On the way home, we stopped in Timperley to see the crowdfunded statue of Frank Sidebottom.
In April, we popped down to London to warm a couple of seats in the QI studio. Here we meet the QI elves, got a whistle-stop behind-the-scenes tour of the Natural History Museum (meeting the corpses of Darwin's pet octopus and a giant squid!) and were waved at by the queen.
A slightly dodgy "financial requirement" of immigration to Britain has meant a brief return to grunt work for your humble narrator. I worked for a month at a University and now I'm doing a stint in the public sector. The money's nowhere near enough for the time I have to put in, and if it weren't for the fact I'm essentially doing community service for deigning to import a foreigner, it would feel like a complete waste of time. But never mind: Christmas Eve marked my 100th day of slavery. I need 130 days, if my calculations are correct, before I can quit.
Despite this unpleasant detail, the year saw some decent writing sessions, mainly on Escape Everything! and finishing up the crowdfunding process of the same. Thanks to everyone who helped. The book will be out on January 28th 2016.
I also started a nature diary: a journal of interactions with urban wildlife. The idea was for it to form a sort of Escapological novel, but I'm not sure it's working. This bit of writing is probably just for me rather than for publication. Having said that, I'll be printing some excerpts in New Escapologist Issue 12, so let me know what you think if you read it.
Performance-wise, I did a couple of diary-reading nights (loved these) and a performancy talk about humorists as part of a friend's bookish art project. I'm thinking of doing a show in this line at next year's Edinburgh Fringe, but only if I can work out a few structural issues with my performance.
The best thing about coming home has been getting back together with friends: Laura, Neil, Johnston, Fraser, Tim (hello!). We also joined a pub quiz team. We play the quiz almost every Monday now. We've won a lot of beer, though I fucked up a recent episode for us by insisting on the Exorcist demon's name being "Legion" when in fact it's "Pazuzu". Bah.
What else? Um. I joined Twitter. Landis came to visit from LA, as did Caitlin. We held owls in Edinburgh. Emily came over from New York. We got rained on a lot in Storms Abigale though Frank. I interviewed Will Self. Samara discovered embroidery. We saw the new Star Wars film twice. I had some new profile pics taken by new friend Alan. I joined the Scottish Green Party but later fell for Jeremy Corbyn. We attended a baby-naming ceremony. We made a contribution to the Museum of Water. Lentus Ambulandus and I kept this blog going, including a series for Stoic Week. We celebrated Hanukkah. We spent Christmas in London.
As ever, thank you for reading, dear Escapologists. I'm very, very grateful. Thank you for the attention. Thank you for the funding. Thank you for the comments and retweets and the enthusiastic emails. Happy New Year to you all! x
Oh Cripes. I almost forgot. The book list! That's what you all tune in for. This year, putting my money where my mouth is, I wanted to read more books by female authors. I did. Over half the books I read were by women. So here are my books of 2015 (as ever, an asterisk* denotes a book read aloud):
Paul Auster – Invisible
Franz Kafka – The Trial
Paul Auster – Man in the Dark
Ben Aaronovitch – Rivers of London: Books 1-5*
Jeremy Dyson – The Cranes that Build the Cranes
Sue Townsend – The Diary of Adrian Mole
Michael Palin – Travelling to Work: Diaries 1988-98*
Simon Donald – Him Off the Viz
Gerald Durrell – The New Noah*
Caroline Lucas – Honorable Friends?
Jacquie Durrell – Beasts in My Bed
Sy Montgomery – The Soul of an Octopus
Lyanda Lynn Haupt – Pilgrim on the Great Bird Continent
Patricia Highsmith – Ripley's Game
G. Willow Wilson & Adrian Alphona – Ms. Marvel Vol. 1-2
Anneliese Mackintosh – Any Other Mouth
Edward St Aubyn – Lost for Words
Tim Bradford – A London Country Diary
Geoff Nicholson – The Lost Art of Walking
David Carlson and Landis Blair – The Hunting Accident
Esther Woolfson – Field Notes From a Hidden City
Marie Kondo – The Life-Changing Magic of Tidying
Olivia Williams – Gin Glorious Gin
Tom Hodgkinson (Ed.) – Idler 43: Back to the Land
Emma Kennedy – The Tent, The Bucket and Me
Pannonica de Koenigswarter – Three Wishes: An Intimate Look at Jazz Greats
Caitlin Moran – Moranthology
Stephen King – The Dead Zone
Roald Dahl – The BFG*
Angela Carter – Wise Children
Ursula Le Guin – The Lathe of Heaven
Jon Ronson – What I Do
Caitlin Doughty – Smoke Gets in Your Eyes
Agatha Christie – Partners in Crime*
Paul Richards – A Book of Mosses
Kathleen Jamie – Findings
Naomi Mitchison – Memoirs of a Spacewoman
Fran Lebowitz – Metropolitan Life
Patricia Highsmith – The Price of Salt
And the ones appreciated but left unfinished:
Jules Evans – Philosophy for Life and Other Dangerous Situations
Steven Pinker – The Sense of Style
John Sutherland – Lives of the Novelists
Gavin Maxwell – Ring of Bright Water
Sue Townsend – The Queen and I
I exit the year glad to be back in Glasgow but newly homesick for my Epicurean, threadbare life of full-time writing.
★ Buy the latest print issue of New Escapologist at the shop; buy our most popular digital bundle; or pre-order the book.
Brace yourself, reader. It's a minimalism post! Contains tortuous detail. Only suitable for consumers of the pornography of orderliness.
Last week saw a trip to my parents' house, the house I grew up in, to declare war on my remaining dark matter, by which I mean "estranged and hidden possessions I've been disingenuously ignoring and discounting from my claim to be a perfect minimalist".
Dark matter is like dental plaque. Both are tedious accumulations of barely-noticeable debris yet they periodically require you to take drastic action. If you don't take action, your teeth fall out. I refuse to acknowledge that there is anything wrong with this metaphor.
I've wanted to take care of this stuff (to dispose of it or incorporate it into real life) for a long time, but things like the Atlantic Ocean kept kept getting in the way. I'm back in the UK now though, so I can finally act on my little fantasy. Imagine! Every last one of your personal possessions accounted for, collected, ordered and treasured in a single place: the very place you sleep.
The plan was to tackle this once and for all in a single KonMari-style blitz. I'd sort though it, one item at at time, deciding what to jettison and what to bring home. What's more, the fact I was travelling by rail with one suitcase imposed a limit on what I could keep.
I didn't know how much I'd want to bring back, but I wanted to be able to fill the case to capacity, so I packed little else. It was fun to carry the large but empty case through a crowded Central Station, effortlessly holding it aloft like Desperate Dan hefting a fridge.
On the train, I was dying for someone, ideally a staunch security official, to ask to look inside the huge case so I could reveal its unlikely contents: a pair of underpants and a toothbrush.
When I got to the house, I assessed the scale of the project. It wasn't too bad. There was a large bookcase replete with books (which I'd been anticipating) and four desk drawers of general equipment and keepsakes (about which I'd forgotten).
I spent some quality time going through the keepsakes and discarding old letters and photographs in a fashion non-minimalists would probably find callous. I enjoyed re-reading them and recalling the past, but it's time to move on. I'm not in touch with any of those people now and I want to give my whole heart to the people I know today.
Even so, I'm not completely without sentiment. I felt funny condemning such items intact to the recycling bin. I didn't want workers at the recycling plant handling my letters however briefly and maybe catching a glimpse of their content. I don't know why I felt this way, but I think that letters should be either kept and treasured or responsibly destroyed by their intended recipient, so I spent ages reading over the doomed correspondence and tearing it up into the bin.
There were miscellaneous bits of kit in the desk drawers–pencil sharpeners, hole punches, staplers–I couldn't be arsed finding new homes for, so I binned them too. With one exception, I followed Mari Kondo's advice about not allowing relatives to see what's being discarded lest they want to salvage any, allowing it to clutter their own drawers.
The exception was a Swiss Army Knife, which I offered to my Dad. "Can't you find a place for it?" he asked, simply not understanding why anyone would want to dispose of a Swiss Army Knife. "No," I said, and explained why. It'd been in that drawer, untouched for over ten years. If I kept it, the same would happen again. What's more, there were many other neglected items along the lines of the Swiss Army Knife so the problem was bigger than it looked. Dad looked at me like I was bonkers and accepted the "gift" but I've a bad feeling that it'll spend another decade in pointless neglect.
Annoyingly, putting out the garbage on my parents' street comes with a lot of rules. You can only, for instance, put out a single bin per week. What doesn't fit in the wheelie bin on trash collection day can't be disposed of until next time. But what if you have a clear-out like the one I was having today? Too bad. Surely this can only lead to constipated houses. Since my parents' bin was already almost full, my bag of disposed-of stuff had to sit in the driveway for a week until finally going today. Not ideal for a minimalist cleansing ritual.
With the books, I was ruthless. Over two thirds of my library went to charity shops. They're good books, but not ones I'd ever read again (or in some cases, ever read), largely left over from my intense-young-man period and not relevant to my life today. Who in adulthood can be arsed with Camus?
Still, there were quite a few books I didn't want to part with: volumes that either hold too much sentimental value, or books I know Samara and I will enjoy. I hadn't predicted this. I filled the suitcase and then some. In the end, I put aside twice as many keepsies as I could comfortably bring back on the train.
I broke my self-imposed "one blitz" rule and postponed the realization of my orderly, minimalist Valhalla. Yes, folks, there remains at my parents' house one last box of books, requiring a second trip to retrieve.
This is a bugger actually, as I was hoping to jettison the suitcase itself upon my return, but instead it will have to sit in the top of my wardrobe, taking up valuable oxygen space, until I can do another trip like this one. But at least this provides another opportunity to show my underpants to a security official.
★ Buy the latest print issue of New Escapologist at the shop; buy our most popular digital bundle; or pre-order the book.
My year of contract work to satisfy the new immigration rules continues.
I recently completed a five-week contract at a countryside university. While I didn't appreciate rising at 6:30 each morning, everything else about the contract was surprisingly nice. I liked the people, the work itself, even the commute. It wasn't the classic inner-city slog thankfully, but a fine swing across open countryside by rail followed by a twenty-minute walk past the tidy shop windows of a small town.
Not all contracts are so nice, but I'm still left feeling that some temp work every now and then could be the lock pick for Escapologists who can't (or don't want to) give up employment entirely. Work for three months and, if frugal, take nine for yourself. It's far less horrible than full-time work, always with a light at the end of the tunnel and a finite, well-defined project to complete in the meantime.
I'm now enjoying a period of languishing at home, where I'm tinkering with New Escapologist Issue 12, listening to a lot of jazz music, and generally having a fine old domestic time of things. Not bad at all.
I've accepted more contract work for later in the year, this time for a medical library. While I wouldn't say anything so ridiculous and dishonest as "I'm looking forward to it," I don't feel afraid either and I'm somehow managing to keep feelings of anger and defeat firmly in place. Yes, I've been bullied into this whole thing by some ideologically-installed Westminster bureaucrat, but since I'm powerless to fight him I'll simply ignore him. Besides, the extra money will be nice. Maybe I'll spend it on an anti-xenophobia or free movement campaign.
These contract jobs mean putting my creative practice into a state of hibernation. I'll keep the creative heart beating but in a minimalist way, a kind of safe mode. I've experienced employment often enough to know that while there may still be hours to write novels, there's never the necessary energy or willpower or peace of mind. I'm wise enough not to go into this thinking "Hey, I'm strong enough to do both at once and have a social life!" It'll never happen. So I've battened down the hatches by planning to do only what I know I'll find manageable.
To start with, I've a long overdue need to send manuscripts and enquiry letters to publishers and agents. There will be promotional work to do for the new book too. This is the kind of work I too often fail to do in the land of the free. It always feels like such a chore. But since I'll be getting paid to cheerfully push bullshit around all day anyway, I'll be in the right state of mind to tackle such things. Operation Dung Beetle.
For actual writing, I've been keeping a private Nature Diary since April and I intend to continue it 'til next April. It's a manageable amount of writing: just a few hundred observational words per day. I hope to edit it into a book, a sort of Escapological novel, once the year of contract work is over. Nature Diary of a City Slicker will likely be my next book (2017) after Escape Everything!
My general feeling as I write this in a sunny apartment (the lease on which we extended yesterday when landlady Heather popped in) on the leafy and pedestrianized West End street we share with art students and foxes, is thankfully, of everything being under control.
Yes, despite everything, I feel in control. I think this is down to the "batten down the hatches" attitude and not putting myself in a position of feeling overwhelmed. I highly recommend it.
As a teenager, I worked in a large music-and-video store. Part of my self-imposed work ethic was to keep the cargo bay empty. When a delivery came, I made it a priority to get it priced and onto the shelves or into the overflow warehouse immediately. An empty cargo bay meant we could tackle any delivery that came in, no matter how big or how complicated. Nothing could take us by surprise. We could take on all-comers. That's how I feel today: in control, stripped back, versatile, ready. And it's not bad.
★ Buy the latest print issue of New Escapologist at the shop; buy our most popular digital bundle; or pre-order the book.
At the awards ceremony (did I mention that?) in Ontario, I met a literary agent who said a writer, as well as writing, should have a day job and a partner who works.
Regular readers of this blog will not be surprised to hear me disagree.
The idea presumably is that day jobs and working partners are a "double lock" against complete professional and financial failure, and perhaps that the double information input from these day jobs can provide the raw material for a literary output.
I prefer to throw caution to the wind when it comes to life and work (it's served me well so far) and to just get on with things in terms of writing. When I have a job, my prevailing thoughts are "this is an appalling expectation" and "why can't I just be left alone to get on with my stuff?" none of which is very productive. As for a working partner, I wouldn't wish a job on an enemy let alone the person I'm uniquely squiggly about.
Regardless of my thoughts on the matter it's starting to look as though my partner and I will be following the agent's advice to some extent.
A term of my wife's immigration to Britain from Canada is that her spousal sponsor (that's me!) earns £18,600 per year. Without revealing the full moth-ridden shame of my personal finances to you, dear reader, I do not usually make £18,600 per year. We live well and have never been in debt but that's not enough for the British government. They want to keep Bohemian types off these shores, and that includes my life partner. Honestly, they don't know what they're missing. She's fab!
Fortunately, we've found a rare loophole that (assuming the Tory vermin don't close it this year) will allow Sam and me to share the burden of earning the £18,600. Sam's looking for a j-o-b and I'll be relying largely on short-term contract work like some sort of hipster-for-hire.
We can't depend on our (by most standards quite substantial) savings because the value of savings is subject to an equation designed to make it look like a pittance. We can't depend on the kind of literary or arty schemes I'm known for either. I could reframe my entire artistic output as self-employment by keeping detailed accounts, but the criteria for this is confusing and contradictory so I'm terrified of Sam's visa being rejected on a technicality.
So it looks like Robert W, self-styled master Escapologist, has little choice but to OBEY and must knuckle down for a spell. No more getting up at 11, no more boozy breakfasts, no more writing or chatting into the we small hours. A crushing blow really, to have the shackles put back on so mercilessly despite thinking we'd got things all figured out (the £18,600 financial requirement has only existed since 2012).
We have for a while felt like Winston and Julia in Nineteen Eighty Four, cast asunder in a gigantic, unforgiving mechanism. But we'll not dwell on that. Let this diary be cheerful.
I mentioned in the last thrilling installment that I've accepted a one-month contract at a university. It's going surprisingly well. Today will see my twelfth working day draw to a close: almost halfway through. The campus is rather beautiful, abundant with wildlife; my temporary colleagues are a very good-natured bunch; and (I can't quite believe I'm writing these words) I'm enjoying the commute.
After a short and barely-noticeable jaunt on the tube, I take a half-hour train ride into the countryside, followed by a twenty-minute brisk walk to the campus. I like trains and I like walking, so it works out nicely. I wouldn't be so chipper about this if the train were a crammed inner-city commuter one or if the walk was much longer or less scenic. I've been lucky.
Feelings of "that I have to do this is a fucking outrage" are mitigated by the fact that the job is temporary and that it'll be nice to have some extra cocktail money anyway. I've also started, rather uncharacteristically, keeping a nature diary, for which twice-daily walks in the countryside provide ample fodder.
I have secret hopes of winning less desk-bound, more arty contracts. A new artist friend is good at raising money and seems willing to hire me in some capacity. Meanwhile, poor Sam's applying for all manner of curious employment to shoulder her half of the burden.
For all my cheerful (stoical?) approach to the situation, being forced into work could barely come at a worse time. My book, Escape Everything, is due for publication quite soon. Received an early sample of the cover art yesterday evening and it looks utterly marvelous. I need to be available for last-minute edits and, afterwards, for any promotional work and public events. As much as anything though, it's embarrassing to have written the bible of Escapology only to fall into mandatory (albeit brief and fairly undemanding) employment almost immediately. I hope people see how extraordinary my circumstances are.
Still, all this at least provides material for the next few issues of New Escapologist. Watch in awe, ladies and gentlemen, as the Great Roberto escapes his toughest predicament to date! This surely is my "Chinese Water Torture Cell" moment. Let's see if I can escape.
★ Buy the latest issue of New Escapologist at the shop, buy our most popular digital bundle, or pre-order the book.
Thursday morning and our things arrive from Canada. Being reunited with our hip Montreal stuff on a tenement-lined Glasgow street feels, in a small way, like worlds colliding.
It was also funny to have such personable Glaswegian removal men help with the unloading when our entire exposure to the shipping system to date had been through online interfaces backed by anonymous ad remote HQs. Human beings are definitely easier and friendlier to deal with. This is something I like about Britain: it's not yet completely succumbed to the commercial impersonal.
As minimalists, it was a tad alarming to find quite how much stuff is now under our jurisdiction: things from Montreal, things reclaimed from my parents' house in Dudley, things belonging to our rented flat. The Montreal shipment is not much by most people's standards–nine boxes of books and clothes, three small items of furniture–but it still felt like a lot as we schlepped them up the stairs and parked them in the formerly spartan living room.
Some minimalists suggest "box parties," at which you seal your possessions into boxes, only retrieving items you need when you need them. After six months, anything not retrieved from the boxes can be denoted "non-essential" and, if you feel so inclined, jettisoned. I've always found such techniques a bit silly (just be a critical thinker, recognise wheat and chaff), but we've had a de-facto box party while our stuff was in transit, and it worked well. We've already got rid of some of what we shipped.
Good to be reunited with my tweed jacket though, and the nice shoes Samara bought for my last birthday.
Pleasingly, the first item to emerge from the first box we opened was the pilot issue of New Escapologist. Look at it! All amateurish and wild-eyed, the apocryphal The in the masthead.
If anyone would like to buy it, you could email me with an offer. There were only ten of these ever printed (probably only five left in existence). It has content that didn't make it into the definitive Issue One, but you'd mainly want it for scarcity value or completism or to giggle at our total lack of finesse circa 2007.
Over five hours, we worked hard to unpack and order our things before catching the tube to Glasgow's south side where I read selections from my teenage diaries to a packed room of receptive people.
I had the time of my life sharing the torrid and rather pathetic things my teenage self committed to posterity, and the gently surreal entries from 1992 (when I was 10). The other readers were amazing, and something about the cozy environment of the show allowed me to relax and enjoy their readings properly instead of fretting over my own pending performance. A wonderful night. Another installment coming in September.
It occurs to me that diary-writing has always been important to me, albeit an off-and-on practice. There's this diary for instance, my teenage diaries and the various public readings I've done from them, this diary, and the "City Slicker's Nature Diary" I've been thinking of writing as my next book. I should really go back to writing a private one, if only for the sake of the general public.
The weeks ahead: I've accepted a one-month work contract at a university library. It's well-paid and the work looks straightforward enough, but the commute's a monster by my standards (a tube, a train and a walk: 1.5 hours each way). Doubtless I'll have Tiresias-style tales of commuting woe for the next installment of this diary!
★ Buy the latest issue of New Escapologist at the shop or pre-order the book.
A trip to London, ostensibly to sit in on a recording of the television programme QI. I'd recently made the acquaintance of Steve–one of the legendary QI Elves–and as well as granting us an interview for New Escapologist he kindly invited us along as production guests.
Shortly after arriving in London and about to step onto a zebra crossing into Hyde Park, a police officer pulls up on a motorcycle and politely but firmly asks us to "hold on a moment, please".
A black limo came into view and Samara said "Is it her?" She was half-joking but I'd already spotted the unmistakable silhouette in the back seat. As the car rolled by, I smiled at Her Off The Money and waved. To my surprise, she waved back, though she regally avoided my gaze. "I've lived in London for fifteen years and I've never seen her," says friend Tim, feigning fury, "but you're in town for fifteen minutes and you get a wave!"
The QI recording was a hoot. It felt very strange to watch Stephen Fry and colleagues being witty and knowledgeable in the flesh and for two straight hours. The show will be edited down to 30 minutes but the whole two hours struck me as perfectly broadcastable: in the age of the podcast, which is allowed to be lengthy, it struck me as a bit of a waste. The panel do their own warm-up, incidentally, and do well to include the audience. In fact, it felt more like a stage show than a studio record, to the production's credit.
Everything–set, people, format–was familiar from television but different. I found myself glancing repeatedly at a camera operator's monitor, which looked exactly as QI looks on television, to help restore normality.
After the recording, we were lucky enough to spend time in the green room. Steve the elf took pains to introduce me to John Lloyd, simply because I'd asked him in advance not to. My fear was that I'd turn into a blubbering pile of fanboy slop, having been a fan of JL's work for a long time. The Meaning of Liff was a sacred text of my teenage years and Spitting Image all but provided the building blocks of my sense of humour. For want of anything else to say, I explained to John why Steve had mischievously decided to introduce us. He was very kind about my inarticulacy and gave me a high-five! When it became apparent that I was unable to converse further, he chatted warmly to Samara about Canada, where apparently he grew up.
I managed to escape when I spotted some of the other elves huddled in the corner. I went over to say hello and to congratulate them on their recent Chortle award. They seemed happy to be recognised and struck me as funny and clever people. They'll be performing in Edinburgh this year, a live version of their podcast, which will certainly be worth a look.
Leaving the green room in a lift, Steve points out that my flies are partially unzipped. "You've been talking to comedy royalty with your knob out." No wonder Sue Perkins had given me the raised eyebrow.
As if this weren't enough hob-nobbing with celebrities, we spent the next morning in the Natural History Museum where an advert offered a free tour of museum treasures "including the giant squid". Well, we didn't have to be asked twice. The squid, being giant, did not disappoint but the real thrill was meeting Darwin's adorable pet octopus, preserved in alcohol but categorically not a specimen.
In a mission to similarly preserve ourselves, we took flight to the Coach and Horses. Outside, we bumped into Dickon. It was all I could do to restrain myself from embracing him and kissing him on the face, so delighted I was to see him (in his natural habitat, no less, Greek Street being a place he sometimes mentions in his online diary), but I somehow managed to cork my delight for the benefit of all involved.
We spent the rest of our London time with Tim, who'd just returned from the Isles of Scilly. We'd not seen him since his trip to Montreal over two years ago. Catching up was a warm pleasure, but it didn't feel like we had quite enough time. We left London vowing to return soon.
Before returning to Glasgow, we took a National Express coach to visit my parents in Dudley. It was a beautiful and colourful journey, England green in the springtime with Red Kites hovering over yellow fields of rapeseed crop. I'd intended to sleep on the journey since we'd missed so much sleep in London, but I opted to stay awake and absorb the early morning splendor. Exiting the motorway into Birmingham, agriculture gave way to suburbia and I was immediately overwhelmed by the gaudily-printed, sometimes-misspelled, consistently witless signage of local businesses, the names and functions of which betrayed frightened and meager minds. Now now, I tell myself, this is where you're from. Be kind. But when a place feels more violent and less beautiful than a motorway, it's hard to be positive about it.
Still, fine times were had with my parents (a pretty drive to Ironbridge, a tramp around the Roman ruins of Wroxeter, a great curry from Wolverhampton), and with my sister who mentions her plan to retire next year at the age of 30. I'd never pegged her as an Escapologist, but she's a better one than I, having knuckled down properly in business and made enough money not to worry anymore. She takes my picture for an art project.
We finally arrive in Glasgow rejuvenated and with exciting moments to look back on (the Queen! J. Lloyd! Darwin's octopus!) but looking forward to being still for a while. We've had our Glasgow apartment for a couple of months now but have not yet settled in at all, what with catching up with Glasgow friends and even popping back to Canada and now this mad week in London. Time to calm down and get on with things, I think. And our stuff from Montreal should be arriving any moment… now.
★ Buy the latest issue of New Escapologist at the shop or pre-order the book.